Inflict injury on oneself to win the enemy's trust
This sounds like making hamete plays, since you are in essence making a bad move in order that your enemy relaxes long enough for you to take much more.

This hamete pulled on the side of the board, or a variation of it, works a lot more often than you might expect.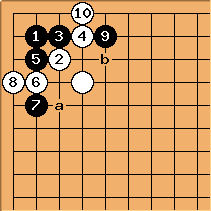 I pulled this hamete off against an IGS 4d* (outside stones pressure at a and b and then extend), but lost the game, showing that hamete can be a viable strategy. (The hamete here is that White has only one eye in the corner.)
(For more information on

, see 2-2 Point Invasion of a 4-4 point.)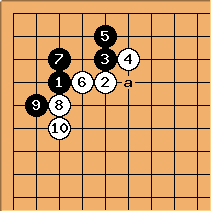 White 6 should be at a, where you now cut. This hamete doesn't work as often as you might expect but the result is joseki if White 6 is at a (then Black 7 at 6), I believe.
Hamete is based on the fact that you know it and your opponent doesn't, and doesn't have time or will to read it out. Hamete is then by definition not an "obvious" trick move. We all make hamete, we should then start studying it so we know what we are getting into and become serious about hamete, not just trying to trick the opponent in 1 or 2 moves, but making 10-20 move hamete plays (at least at my level).
-Kungfu