High Handicap Fuseki
Here is a series of attempts a stronger player may use vs a weaker player in a handicap game. Note that in real circumstances some moves are overplays.
Possibility (Not Best, yet playable) / 1-10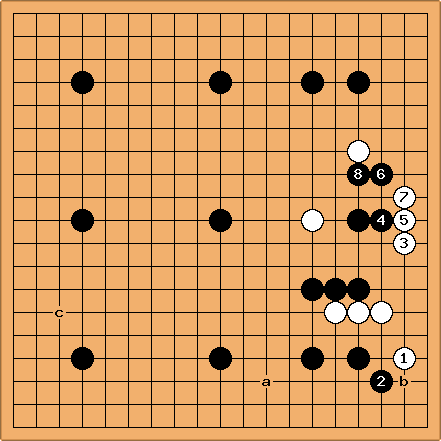 Note that although superior to the second variation (as result is life for white) we may not say this would be quite good as white would loose the usage of the center two stones. Keep an eye on the fake a vs. b miai which truely is sente for black. So it is very recommended to play actively and tenuki on 9. At c for example.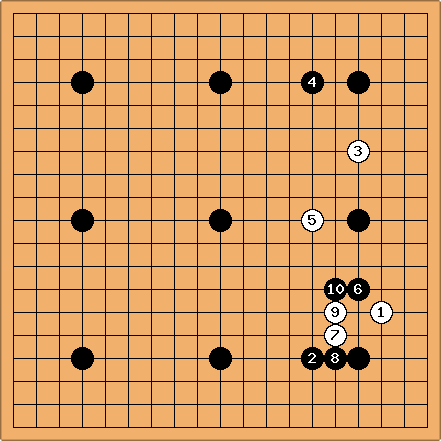 Playable but inferior, black gets nice thickness for fighting and white situation is not clear.
Another Possibility / 1-10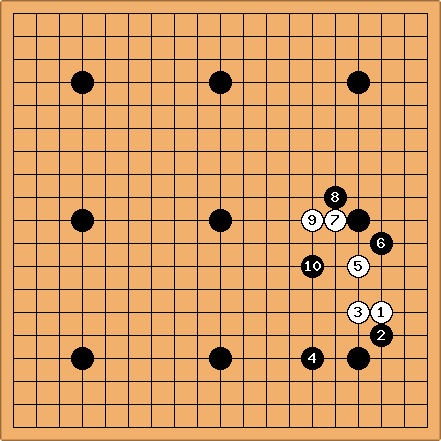 Although a very strong player taking 9 handicap might play like this as it is the most territorial approach, only a very keen reading would make white not get what is his aim. This is most probably the best way to play with 9 handicap, but mistakes can lead to severe problems in shape.
---
tderz: 1st diag. looks ok (though not complete); the 2nd however looks weird for White, there are better variations
zelda91: I edited it a bit and hopefully it will become more discussed as it is a key part in becomming a strong player and understanding miai etc.