hanpatsu
Hanpatsu (反発) is a Japanese word meaning to fight back or resist. This word captures an important principle that often, instead, of gently or passively answering an opponent's move, it may be better to push back.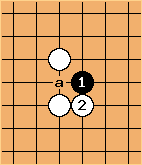 In response to the peep of

, instead of answering passively at a, White fights back with

.