GokyoShumyoSection5Problem24/Attempts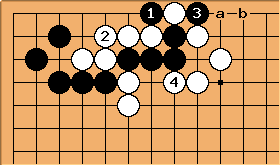 xela: If black plays at

first, then after

, white wins the race.
joelr: Shouldn't

be at a, else Black gets out to b? And what about
---
To me, this solution seems incomplete. Black moving to 3 is a mistake; White can make an eye forcing Black into an unfavourable situation. A KO can develop. We shall assume that KO for Black is bad.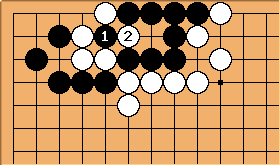 Liberty fight looks bad for Black now. (I couldn't find another way for Black to fight and gain liberties)
---
This order of moves is better for Black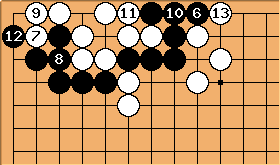 This fight seems a lot harder for White to win.
tapir: Black is dead after the last white move (I added it). White just has to give him the three stones on the left.