Gokyo Seimyo Volume 3 Problem 66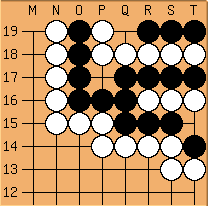 This is not a problem, just a reference diagram to show hanezeki. The two characters accompanying the diagram are 板持, actually a typo for 挑持 (hane and seki).
---
Just a diagram with a comment saying 抜持. Could someone please translate.
unkx80: Don't know, but recognized the position as hanezeki...
Herman: Yes, the diagram is identical to that one. So the solution is not to play. They should have presented this one to the WOPR computer in the movie War Games :)