Gokyo Seimyo Volume 3 Problem 1 / Solution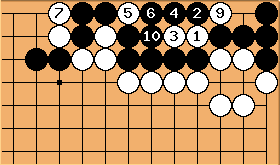 After

, black is caught in a double snapback
(Black should therefore ignore

to defend in the corner).
tapir: This problem looks familiar... there is some similar problem on SL.
Herman: Yes, these:
tapir: Sometimes - not necessarily here (

at

?)- I wish we show strongest resistance and best for both diagrams.
JoelR: I agree with the convention of "most stubborn resistance". If

at

, then

captures three stones. But for completeness, I want to show the other line that takes more than one move to see it doesn't work.