Four stones on the third line in the corner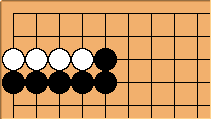 This is the Four stones on the Third line in the Corner and we're looking to explore whether this is unconditionally alive if white plays first.
Clearly, black can play first to kill. But the value of this move will vary based on whether white first kills or only makes ko/seki.
Everything here is therefore to be taken as research in progress not as final conclusions.
---