Clamp Connection Comparison
DieterVerhofstadt suggests a new response to the clamp. Here we compare it with the usual solid connection in a difference game.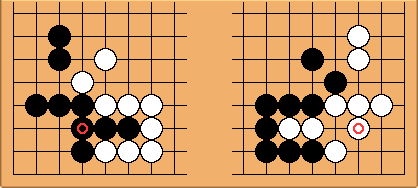 [1]


What happens when Black plays first?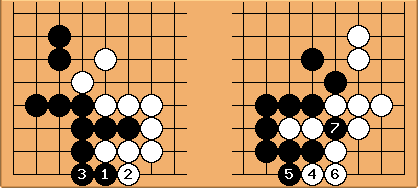 takes back.
Black has one more point of territory and one more captured stone: Black wins.


What happens when White plays first?
---
Since whoever plays first wins, the difference game shows that sometimes the solid connection will be better and sometimes Dieter's defense. :-)
-- BillSpight
---
[1]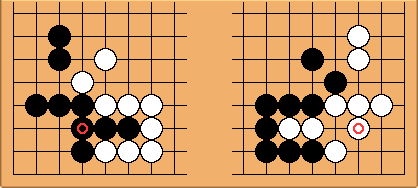 Truc: In CGT terms the canonical form of these two positions is zero and star, from left to right, respectively. This tells us a lot about the correct defense when there are other infinitesimals on the board.
Bill: Are you referring to the chilled position at temperature 1, when the left side will presumably have been played out? Otherwise the left side chills to something like
 2 || 0 | -Big

Truc: Erm, yes, I assumed the sente would get played out and the positions would get chilled to zero and star (left to right). I was trying to say that if the rest of the board adds up to * we should play Dieter's defense, and if the rest of the board is zero then we should play the usual connection.