bigo 11
Hi everyone, my name is bigo and 11 is my birthday. I am 12 year olds and study in Le Van Tam school. My account on KGS : bigo11. Foremost, I am member of Vietnam Go Community Official Forum at

http://vncovay.org. Then, also proud to be a member of LY Go KGS Clan and ASR League, from D2 room. I love go and want to be a pro, I think you, too. Go in Vietnam is not popular but have some player strong. In my Library, you can free download go books and study Opening game, some important terms and conceptsin go. Now enjoy !
Some Important Terms and Concepts in GO
aji
Aji refers to latent possibilities that exist in a position. Although these possibilities may never be realized, their existence dictates the course of the game and enables certain moves to be made. In Dia.9, the marked white stone in the corner is dead, but it still has aji. Because of this stone's aji, White need not fear Black's pushing through at a, so he can jump to

, rescuing his three stones at the top.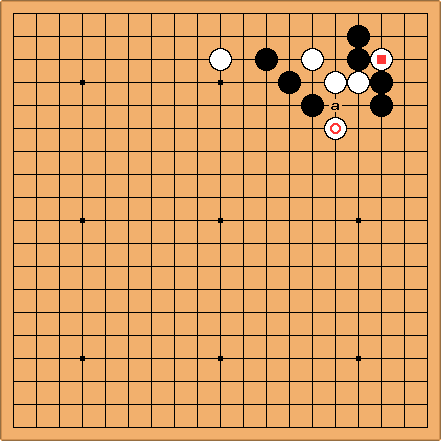 If black does push through and cut, with

and

in Dia.10, White ataris with

. After Black defends with

, the aji of the marked stone comes to life and White captures Black's stones on the right with

and

.