Bermuda Triangle Handicap Fuseki
In a 3 stones handicap game, the following pattern of black stones is called Bermuda Triangle. It has been invented by RobertJasiek, when playing as "sum" on KGS. The special merit of this opening is a particularly great whole board balance of influence because the triangle's edges have roughly equal lengths while the center, the sides, and the corners are all significantly affected by the influence. A white move at K9 (which is in the middle of Black's shape) feels like being a ship lost in the Bermuda Triangle.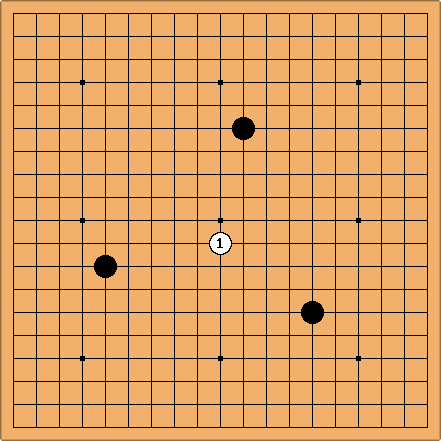 Charles Why wouldn't White play in the top left corner?
RobertJasiek: Indeed, White should play in one of the corners or on one of the sides because only in the center his stone is already attacked by three black stones.
~srn347: White's stone has influence in 4 directions (similar to tengen, in fact right under tengen), so starting in the center like that is acceptable; it is attacked by all 3 stones at once, but it attacks all 3 stones at once also!
Playing in the middle like this is clearly a bad move, contrary to the principle that plays at the beginning should be in the biggest areas. The single white stone is not attacking the three black stones. After White has established some stones on the outside such a play might be reasonable.
Be that as it may, it has been said (and debated) that in handicap games, overplays are necessary. Attacking (splitting possibly) all 3 handicap stones at once seems reasonable by that logic. ~srn347