BeginnersEndgameExercise5/Solution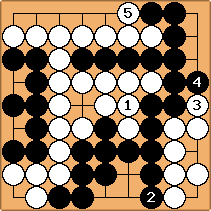 takes away Black's potential eye in the center, setting up an eventual sente for White against Black's group. Black can do no better than to respond with

and

right away.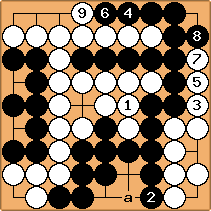 is urgent, a 2-point reverse sente. (If

, Black must respond at a to live.)
White still wins by 1.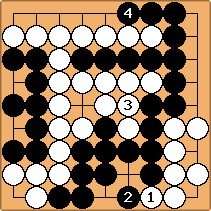 The sente,

-

, is tempting, but is aji keshi, securing 2 eyes for Black and reducing the value of White's plays on the right side and in the center.[1]

is now best, but after

the top and right sides are miai, to be shared equally. All White can get now is jigo.

(

-

is a losing sente, losing 1/32 point on average. Usually such a small error will cost nothing in the end, but this is a problem. ;-))
---
Authors:
Composed by Bill Spight.
Solution found by LukeNine45.
---
[1]
Inspired by an inaccuracy in

http://www.yomiuri.co.jp/igo_e/281.htm , where the aji keshi did not cost a point.