Beginner Exercise 73 / Solution
Blake: After the marked stone has been played, I don't see how White can kill the group. It guarantees an eye at a.
After

, the eyes are obvious at a and b.
unkx80:

can be played at c too.
---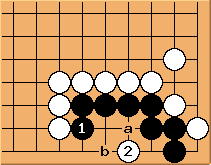 Dansc: Enlarging the eyespace with

fails. Black's eyespace is a bulky five, so

kills the black group - a and b are miai for kill now. The bulky five shape is the same reason a black stone at

would make the group alive.
---