Beginner Exercise 65 / Solution

rescues the black group.

cannot escape because of connect and die.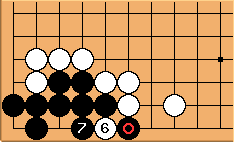 Since

captured three stones in a row, Black has a second eye where those stones were.


Note:

would probably be played at

because White would realize that the connection to the marked stone means death for at least three, whereas connecting out saves two to three stones and threatens the black group further, forcing (locally) a play at the

in the diagram.
---
---