Beginner Exercise 58 / Solution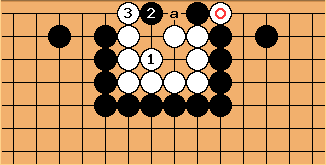 is the only correct move. If

tries to destroy the eye at the top, White can block at

. With the marked stone, Black cannot play at a to connect

. So

is effectively captured, and White lives.
Moosky: If B plays

at

, W will answer at

, effectively making 2 eyes. This will be the better move for Black, as it takes 1-2 points away from White (if B captures the marked stone).
Jacob4Jesus: Doesn't

at

kill? Is there a better play than

?
JoelR: No, If

at

, then

at

. Please read these things out, making note of which stones are still on the board and which are not.
---
---