Beginner Exercise 32 / Solution
Solution by lavalyn:
The peep must be answered or Black escapes to the strong reinforcements just outside White's walls. After

, Black has two eyes.

takes away Black's potential eye and prevents the thrust - suicide either is forbidden or includes self-capture. Black dies here.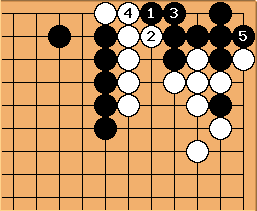 In case the peep is answered differently, the move order changes... eventually White will play at

.
Black

is the vital point. White has to play at

to prevent the capture of the marked White stone(s). From there, Black secures the second eye by playing at

. White has the choice of either 'a' or 'b' for the fifth play, but should choose 'a' otherwise White will lose a point of territory. If White tried to close off the potential eye at

by playing there after

, Black can simply play where

is, White can't protect itself from this and will be captured; if White chooses this route then it will lose 3 more points of territory and 2/3 prisoners depending how White chooses to play.
---
What about this situation? If white answers at

he still can prevent black from creating two eyes.
Black would be putting himself into atari with that move at 3 which seems a little silly to me - VanEvery
Only if black wants to give it away... a and b are miai - Joshual000
---