BeginnerExercise262/Attempts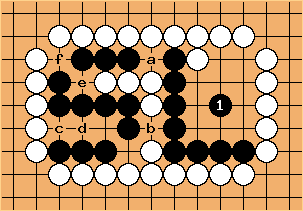 With a and b as miai to connect the right-hand eye to the left side of the diagram, e and f as miai to connect the top-left to the middle-left, and c and d as miai to create an eye on the left, my preferred play is

. With its excellent shape, no attack by white can prevent an eye on the right side. Also, a or b can be played later as a 9-point ko threat.
---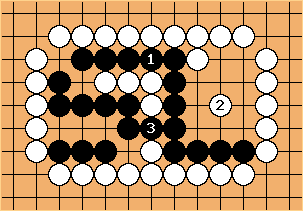 However, if black instead starts at a or b, the other of the pair and the original

become miai for life, because getting both a and b captures 4 white stones, and black ends with two eyes on the left. If black gets both a and b, he can even ignore attacks at c and d, since his big eye can be subdivided into two if necessary. Therefore white is more likely to respond to a at b, and vice-versa, than at

above.