Beginner Exercise 22 / Solution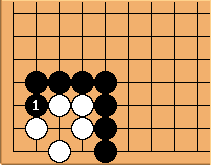 The asymmetry in the setup indicates which side to start on. The only place where White could conceivably get any more eye space is along the side, so attack there first.
If White tries to make more eye space, Black falsifies the eye. The circled points are good for at most one eye regardless; it might seem that White can divide the space by playing in the corner, but then all the eyes are false.
---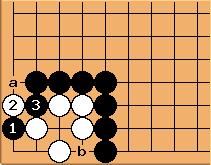 An alternative way of killing is at

. If White plays at

, Black will play at

, so a and b are miai.
---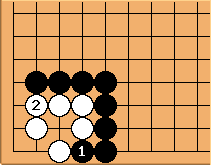 attacks in the wrong direction. After

, there is no way to destroy the eye at the corner.
---