Beginner Exercise 219 / Solution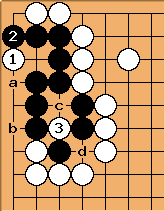 Another path where black ends up dead. a and b are miai, as are c and d.
baerrach: I had trouble seeing the false eye, so here are the diagrams.
White can't play at

because of damezumari.
JoelR: I wouldn't call this damezumari. It's just the usual principle that capturing 2 doesn't make an eye. By the way,

can tenuki.
Bill: The term is connect and die. :)
---