Beginner Exercise 205 / Solution
There's nothing fancy to do here. If Black simply connects with

, there is no way for white to save her 5 stones, and thus her group.
a is self-atari
b is met by a to give black 2 liberties to white's 1,
c is met by d or a to capture.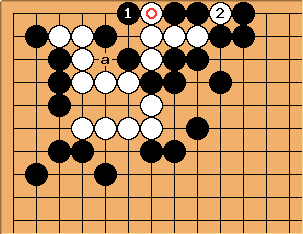 If you have done a fair amount of problems solving, the diagonal move at

may come to mind. However, when White captures two stones with

, she has enough liberties to capture at a next.
---