Beginner Exercise 123 / Solution
Unsettled. White playing first can live. Black playing first can kill.
What about this alternative for Black first? It seems to leave Black in a stronger position (though perhaps insignificantly so).
Moosky: This doesn't work. White would play

at

, creating a ko. You should always avoid ko if you have a sure way to kill. (The diagram at the bottom of the page shows this).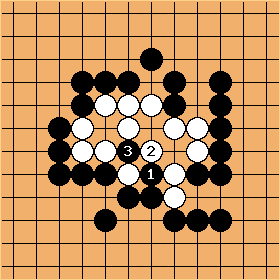 There is a small trap in this problem. Definitely the ko created by

and

below is not the solution.
---