4-4 point low-high double approach direct invasion
4-4 Point Low-High Double Approach, direct Invasion
---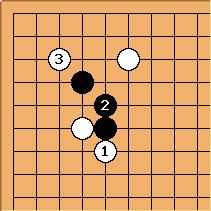 tderz: After

,

is mandatory, thereafter

is played.
fractic: This isn't really a direct invasion since white hane's first.
tderz, ok, I cannot change the page title, let's suggest a better name then, thank you
Alex: ...double approach tsuke-hiki invasion? ...double approach high attachment invasion? (since you say - is essentially forced)
tderz: Alex, it's not forced, is shape too.

Alex: Makes sense - I hadn't thought about alternatives, I was just responding to your statement that it was "mandatory."