4-4 Point 3-3 Invasion, Armpit Hit
Return to parent joseki article: 4-4 point 3-3 invasion joseki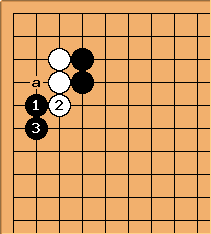 The armpit hit of

is a special continuation for when Black has superior outward influence and intends to either kill or severely attack White.

, then

begin the typical continuation, followed by a running battle for White's life. White cannot live by playing

at a due to a tesuji.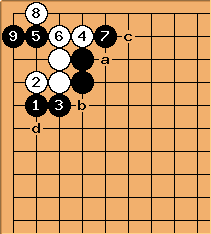 White cannot live by playing

due to Black's tesuji at

. The diagram shows one possible continuation after Black's tesuji. White may attempt to cut at a or b, or clamp at c, however in order to initially play

, it was assumed that Black's outside influence was already sufficient enough to handle any running fight. If these continuations are viewed as too dangerous for Black, then he could even pull back at d, instead of playing

. Therefore, these resistances by White are likely to fail.