364463 enclosure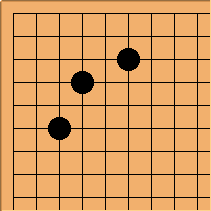 This enclosure is often deprecated: the 3-3 invasion in it is in theory something Black can kill. But it is difficult, and in practice Black cannot rely on it.
White has other plays against this enclosure. The normal enclosure, below, has better aji.
Charles Matthews, 2004: Although this has had a bad reputation in the past, it has been played quite often in Korea; in fact it is a good example of the way in which Korean go ignores some of the conventional wisdom in Japan. The reading associated with the 3-3 invasion here is really quite deep.