Worst Move Problem 2 / Solution
After white's first move here, all the black stones are alive without another move being required.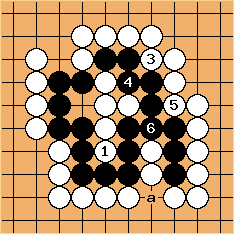 Anonymous: White at 6 as first move is certainly worse :)
Anonymous2: Does white at 6 first actually save the group ? it seems to only give a false eye.
MrTenuki: You're right-- it doesn't. If is played at and Black responds by capturing at a, the group is still unsettled because Black would need another move to make the second eye. Then again, that's not the worst move because it doesn't make Black alive in one move.