Territory as a strategy
Although making territory is often described as the goal of the game, this is not completely true. In area scoring rule sets, it becomes clear that territory is not a goal at all, but rather a strategy.
An easy way to describe territory to beginners is:
"A good way to increase your score is to surround empty points in such a way that your opponent cannot play there without being captured"
Example: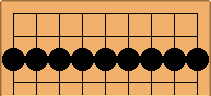 Can white put any stones between the line of black stones and the upper edge without them getting captured by black eventually? (with alternating play) This can be a useful beginner exercise.

With the stone-counting teaching method, this can be a very natural way to introduce the concept. Your student is making territory because he can then:
"save those empty points for later, your opponent cannot play there anyway, so you can work on getting points elsewhere, and only when that is no longer possible come back and fill these points"
---
See also territory pitfall