resurrect
Resurrect: Cause a dead group to become alive.
See: Worst Move Problems
In sente (not so bad)

Black will eventually have to play 'a'.
Any ideas for a move that takes a dead group and causes it to live, without the opponent ever having to respond to the move?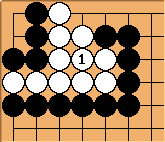 And its KillYourselfInGote at the same time! Playing it as a ko threat would be difficult to surpass.