OD1P - Aug 22 Problem / Solution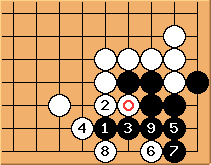 SnotNose: A comment on this solution:

-

make an L+1 group with a weak leg. It has the same status as an L+1 group with a strong leg (one in which

is a Black stone): Black can live, White can kill. Since White must play

, Black lives with

. I believe this is the correct solution.