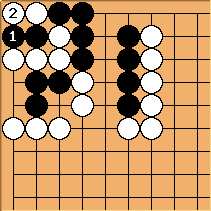 Black must make an eye in the corner. The only way to do this is by attacking the four white stones there from the inside. Attacking from the outside would result in Black losing the outside three stones and failing to make an eye. A sacrifice (

) in the corner is required.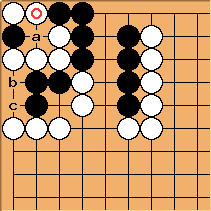 White can not play at a. Black will play at b and White will lose the stones in the corner. Therefore, White must play at either b or c.
White b is met by Black a, capturing two white stones and threatening to immediately capture five move (including the stone played at b). Should White save these stones with c, Black makes an eye and live by playing at

.
White c is met by Black a again threatening to capture White immediately and thereby allowing Black to make an eye by playing at

.