Hikaru Problem 11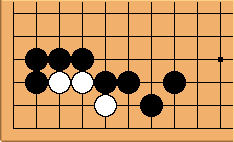 Appears in episode 4 of the anime at 07:26, when Hikaru witnesses some go at the Haze Junior High 12th Anniversary Festival. Apparently for mid-dan players.
In the frame the board is cut off so this may not be complete around the 2-18 area.
---
Solution someone? -- JL
TheBigH- I assume this is white to play, because if it's black to play the kill is trivial.
Herman: White is dead, so the transcription is wrong.
tapir: Assuming cut off / some stones are missing, this looks conspicuously like Hikaru Problem 13