hexkidGame401446
One of the first games I finished (if not the first) was a game against GnuGo (it plays fast).
Thanks to gnugo's boss for permission to post this game :)
I think most of the games I'll have questions about will be of games I lost, so I want to start with a game I won against a stronger opponent.

Game 401446
---
Move by move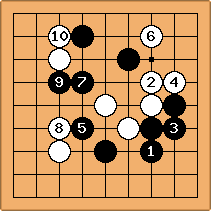 : Hmmm ... White looks about to 'take' Black's corner, but if she does Black may take her top left corner -- Black's just making the bottom right corner safe before attacking.

: Disturbance tactics.

: I knew it!

: If Black can separate White's groups and keep his connected (yes, I know, tough goal) it is a good thing.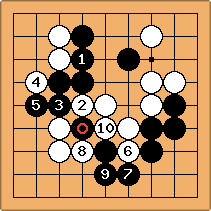 : Attacking Black's weak group.

: keep connected.

:

is not important. I realize White will connect her groups, but she'll have to lose some time to do it. The point with the marked stone is not an eye for her.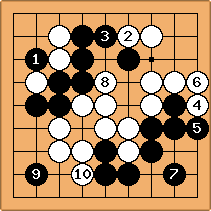 : Saving Black's weak group.

: Black does not want to be attacked here.

: either connect up or to the right.

: ok, connecting up.