Frisbee Go
A net on the grass and the stones are frisbees, to be thrown from a (little) distance.

Frisbee Go was played for the very first time in the EGC 2000, in Berlin-Strausberg. DGoB, the German Go Association, owns three Frisbee Go sets, as of Winter 2018/2019.


Photo from Strausberg 2000, courtesy of Steffi Hebsacker:


At the Tuchola (PL) Go Congress 2004: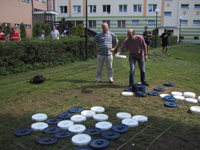 Frisbee Go at Jena University in Summer 2016:


Hot Discs
In July 2018, the World Youth Championships in Go took place in Bacharach, on "Burg Stahleck". In free hours, also some Frisbee Go was played with a medium size set (provided by Hebsacker Verlag). The summer 2018 was really hot, and amongst others the frisbee players learned one special lesson: In the sun, black discs become much warmer than white disks, which again leads to different flying and touch-down behaviour.
Frisbee Robot Go
Ingo Althöfer from Jena University (Germany) is promoting Frisbee Robot Go. An artistic picture is
In the 2016 Computer Olympiad (to take place in Leiden (NL) at the end of June 2016), a Frisbee Go simulation was one of the disciplines: When a player aims for cell (i,j), the stone will go to (i,j) with probability 1 - 4*eps, and to (i-1,j), (i+1,j), (i,j-1), (i,j+1) with probability eps each. The parameter was chosen to be eps = 1/6. (eps = 1/6 also allows to play the simulation with the help of a 6-sided die.) IngoA
(big:

http://matthieu.walraet.net/go/tuchola2004/big/350-5007_IMG.JPG)

and
(small:

http://foto.luftbrandzlung.org/albums/EGC2004-Naoyoyuki_Kai_1/IMG_0009.thumb.jpg)
(big:

http://foto.luftbrandzlung.org/albums/EGC2004-Naoyoyuki_Kai_1/IMG_0009.sized.jpg)

(small:

http://foto.luftbrandzlung.org/albums/EGC2004-Naoyoyuki_Kai/EGC2004-Naoyoyuki_Kai_1.highlight.jpg)
(big:

http://foto.luftbrandzlung.org/albums/EGC2004-Naoyoyuki_Kai_1/IMG_0010.sized.jpg)