Fort Lauderdale Millenia Go Club
Fort Lauderdale, Florida
Updated on 5/02/2009:
My girlfriend and I own a coffee shop in Fort Lauderdale where my Go boards are set up. Everyone is welcome to come play anytime, but we try to have an official "Go night" once a month. I'm about 9k and am happy to teach or play any day. (We're closed on Monday's, though.)
You can contact us at Undergrounds Coffeehaus 954-630-1900, or undergroundscoffeehaus@gmail.com
---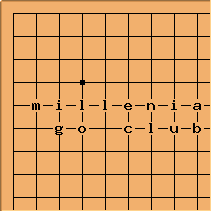 Millenia Go Club (Name Pending) Updated: 2-24-2010
My girlfriend and I started our own Go club. We are looking for more members. I am around 12k now, but getting stronger everyday, and willing to teach any beginner interested in learning this wonderful game. All levels of players are more than welcome to attend. The location has large space for play, and amazing food, drink, and pastries.

Where: Paneras Restaurant inside Millenia Mall. Orlando, FL.
When: Wednesday 5pm-7pm
Average Members: 3
Contact Me: Kpwolf24@yahoo.com
"GO" for it! :)
-Ken (Kenwolf on KGS)