Eleven spaces is Not enough
Using scripts similar to those that generate chess endgame tablebases, I have verified the claims next to the following two diagrams.
-- Ricky Demer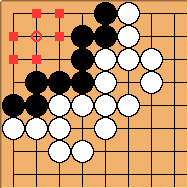 The corner is not yet Black area.


Black can play at any of the 7 marked intersections to make himself alive outright with 10 points of territory, but

is best because it leaves either no ko threats or only one tiny one (depending on the rules).


White-to-move plays

. (Any other White move in the corner lets Black respond to become alive outright with 11 points under territory scoring.) After

, she can confront Black with the choice between:
(a) letting her get a position in which she has at least one stone in the corner and all of his non-pass moves there let her kill him outright
or (b) putting his entire group at stake in a ko from which he cannot subsequently back down.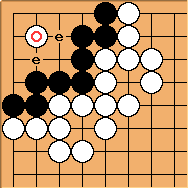 If White does want to give Black that choice and the next move in the corner is him playing either e, then she must respond at the other e. If Black is komaster, then he can still move to make this his area. Moreover,

does not even threaten a ko to kill Black if the rules in use imply that a long cycle is a win for him and that his corner group in self-contained Moonshine Life is not killable.
---
(The following is based on the results of my scripts, but certainly not verified by them.)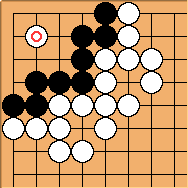 I get the impression that

lowers the corner's temperature, since
Black's group is currently not at stake
and
Black currently has the option of ko for the corner
and
Black exercising that option puts his group at stake without Black being able to subsequently back down
and
White seems unable to remove that option in any sort of sente
---