ConstructionProblem5
Normally, you have a postion and try to find a solution; here, you have the solution and must try to find the problem!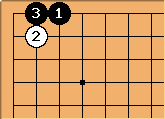 is the only move that gives life to a black group. In both diagrams, after

,

is again the only move that saves the black group. Please look for the position with the fewest stones that fulfils these conditions!