Amateur Fuseki 16
ZimoLi: I've been using this opening lately when given the chance. I think it gives nice balance, because the box shape allows for, in theory, a large-scale moyo game, but the follow up moves at a, b, and c also secure territory nicely. It gives good control along the edge, and given the opportunity, a stone at the center would really complete the scene. I play this with the intention that white will invade, hopefully early, so that I can build more territory while chasing. I would appreciate any comments on this opening's strengths and weakness. Thank you.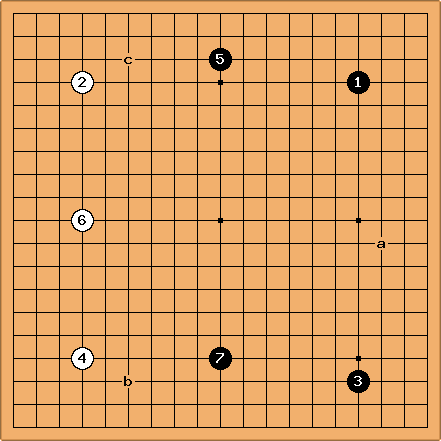 Uberdude Black 5 feels odd to me. As white I'd probably approach the lower right for 6.
ZimoLi I originally just had this setup with all the stones on the starpoints, but I feel as if by offsetting them I have a more varied coverage of the board. On the bottom, I have more control of the corner, and as with the 5 stone versus the 7 stone, one is lower and one is higher to compensate for how the opponent plays.