Amashi
Amashi
Amashi is a type of weak group strategy. Any weak group strategy is a kind of Greedy Go: take more territory early on, and hope to defend well enough to win in the end. Territory is taken in exchange for (own lack of) thickness and thickness is what you need to attack.
In a fuseki book by Ishida Yoshio amashi is indicated as a strategy principally of invading or reducing moyo or negating influence. Not really taking territory every chance you get, but taking away potential territory or making the opponent's stones inefficient by shinogi.
The real point is that amashi strategy is the sophisticated, pro version. Players of all levels can play big points and hope their groups don't die. But you have to be really strong to 'dangle' weak groups successfully: leave them just weak enough that your opponent can attack them, and really must attack them, but has no attack that can successfully be pressed home. The attacking player tries to kill a group and, being unsuccessful, ends up with no relative profit or a relative loss.
This strategy is the opposite of the positive style, which builds thickness to attack or builds a moyo, inviting an invasion to then attack it.
See also the lively /Discussion about the definition.
Local example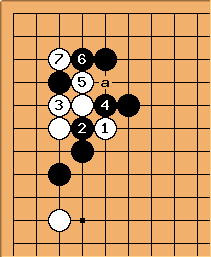 B has gained relatively nothing - he has lost the corner and still has a weakness at 'a'.
Global Example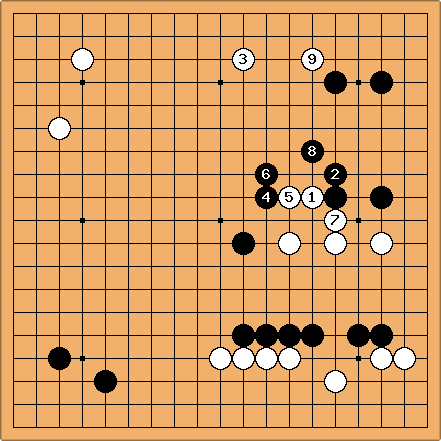 Bill: This example comes from a game between Shuwa (White) and Nakagawa Junsetsu, in Kenrui Shuwa (Shuwa, the Fortress) by Fukui Masaaki, p. 79. The single kikashi of
, followed by the oba of

, and then the tenuki to play another oba at

are, says Fukui, "a model of amashi uchi".
Amashite utsu
One Japanese definition of 'amashite utsu' (a better formulation than 'amashi') is: "A high-level technique: while appearing to follow the opponent's orders and doing what is asked, to play in fact on the basis of precise calculation of relative positional gains so that the game will become favourable."
That in itself is not a sufficient definition, but it is followed immediately by 'amarigatachi' which is defined as: "A shape in which you have not made the slightest gain after you appeared to be attacking in good form but the opponent has settled himself. You are in a state where you have suffered from the opponent's 'amashite utsu'.
Those definitions are backed up by the above diagrams, but a Japanese reader would also have the benefit of knowing the core words. The core meaning is ama = "too much" and the core grammar is -su = a causative verb (i.e. force the opponent to expend too many moves) and -ru = aru = to end up in a state (of having overdone things).
Players
Amashi was developed by great players in the past, in the days of no komi, when playing with white stones. Ancient masters of amashi are Honinbo Shuwa, Honinbo Shuei. More recent masters are Sakata Eio, Cho Chikun.
Go Seigen claimed that Huang Longshi invented amashi before Dosaku.
References
The Go Players Almanac: Letting the other player do what he wants, typically by letting one's weak stones be attacked, but coming out ahead, anyway. Literally, "having something left over", i. e., having enough territory left over to win the game.
The glossary at the end of Appreciating Famous Games has this definition: a high-level strategy in which over the board as a whole one permits the opponent to attack one and thus seemingly take the initiative, while planning to catch him unawares when he over-extends himself.