mAsterdam
47 (now 50) is way too old to get any good at go. But I'll learn and enjoy it anyway. I did not play 19x19 until february 2003. I hope to grow 9 stones in an instant and be a DDK no more.
Senseis is an important source to me. Sometimes when there is something I do not understand I get angry. Unlike with books (which I also like), here at senseis, thanks to

Tim Berners-Lee this anger can transform into sensible texts for me and other novices because of (just to name a few) Charles, Bill, unkx80, Andre Engels, Hu, Floris, Blake, John F., Arno and Dieter. You really help me understand. Thank you.
On SL, DGS, KGS, IGS, Yahoo and some non-go related thingies, my nick/ID/handle/whatever is mAsterdam. After discovering the sound of a real stone on a real goban, however, I tend to play IRL mostly.
For a while I kept a little journal on my go and SL experiences.
favourites
stuff
Koyaanisqatsi
After a period of hardly any go-activities recently (fall 2005) I tend to play almost weekly again. When black in an even game I start with this move: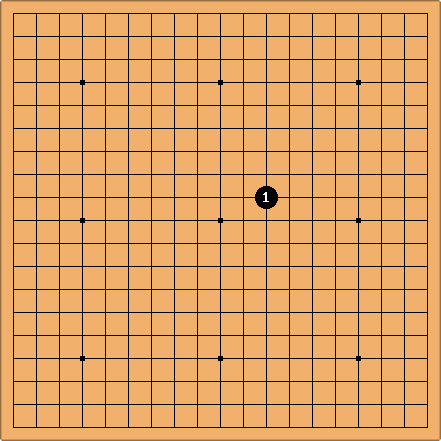 random
手 te - move .

Daidaigeima
tiger?
Pushing in /through: De and Degiri, Atekomi, WariKomi

Legacy
Pioneering isn't done by perfectionists. See Japlish
Suspect English Terms
Units/Quantities/Metrics
---
characters
Oo = 大 ba = 場  kyu= 急
kyu (rank) = 级 and dan = 段.
See

http://igs.joyjoy.net/English/learning_go/go_terms.html and

http://www7.wind.ne.jp/smallbear/igodict/igodict.htm.
Somehow the mostly found hexcodes don't work, so &x30C8; has to be written as & # 12488; to get ト
DougRidgway: would it be possible to allow through hex character references as well as decimal? So that 断 works as well as 断? Seems like hex is popular for character references.
SAS: There are browsers which understand numeric character references only if they are in decimal. So this is not a good idea unless the wiki software itself converts the hexadecimal to decimal, so that browsers never see it.
---
thing

property 1 : property 2 : property 3
ひき
---