stl Will
Bio
I began "playing" go immediately after high school, embarrasingly thanks to Hikaru no Go. On again / off again relationship with the game since then. Recently, I've been a pretty regular attendee at the

Creve Coeur Go Club in Creve Coeur, MO. I'm attempting to regularly attend Chicago's quarterly tournaments and, now that I'm a full fledged AGA member (WOOHOO!), it's much more likely to happen. If you're from Chicago, I'm probably that guy who flooded your club with requests for a couch to bum on for the tournament.
Since beginning studies in Chinese at the

University of Missouri - St. Louis, I've tried to learn the Chinese equivalent of the mix of American and Japanese go terms I currently know. Sensei's has helped quite a bit, but my own lack of a long term memory mixed with my inability to study consistently (likewise w/ go) has made the progress slow. As such, many times I will switch between "go" and "weiqi" in referring to it. I apologize in advance for any confusion this might cause!
If you'd like to beat a few games out of me, I can be found on KGS, IGS, and Microsoft's Zone.com as stlWill and Yahoo! games as functi0n1. Note: While school is in session (late August - early December) I won't have much time for KGS and IGS play. Instead, find me on DGS as stlWill.
Pages
Ratings / Games

Games Archive DGS Rank Graph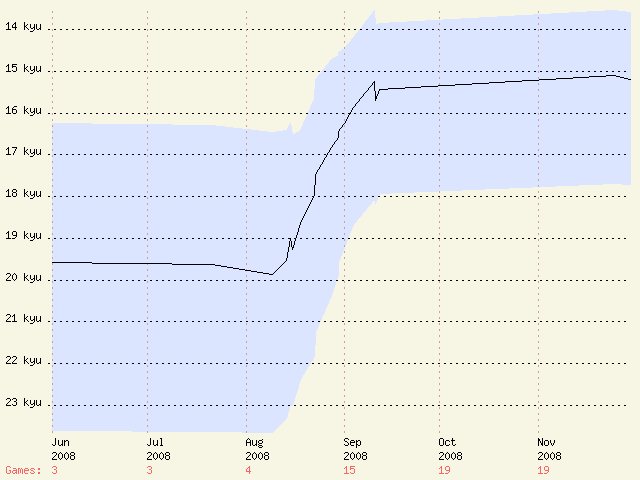 ---
Blog Articles

Playing on DGS - No, really: It's a lot of fun! - September 1, 2008


Chicago Tourney - August 15, 2008


Site Additions - August 15, 2008


KGS Etiquette - August 12, 2008


Site Additions - August 4, 2008


How and What to study - August 1, 2008


Why I joined the AGA - July 28, 2008


Go Sets: Where "Cheap and Easy" is a good thing - July 25


Recommended Reading: Excerpts from Cho Hun Hyun - July 24, 2008


Sensei's Library - July 22, 2008


Explanation of the site - July 17, 2008