Miai
Definition of Miai
The Japanese go term, adopted into English, miai denotes that there are two different options such that, if one player takes one, the other player can take the other. Also, it typically does not matter which player gets which option, but sometimes each player has only one of the options.
Examples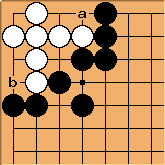 For example, in this diagram White lives because if Black plays at a, White plays at b; and if Black plays at b, White plays at a, in both cases making two eyes.
We say that a and b are miai for two eyes. In general any such situation where when one player takes or prevents one of two options, the opponent will play the other, is called miai. In English, the points are sometimes said to reflect each other. (Think of a see-saw.)
This might be the case in a local position like this, but also in more general, strategic concepts. For example, if Black has a large moyo which White can reduce or invade from two sides, the two invasions might be miai. For another good example of miai, see wariuchi.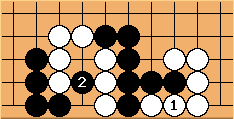 Or White may play
and Black

, also for a local score of zero.
We expect one player to get one play, the other player to get the other, for a net local score of zero. The plays are miai.
Equivalence
Note that equivalence is an important aspect of miai, in the sense that the two options allow the same objective to be achieved more or less. For example, miai in a life and death context might mean the existence of two different moves resulting in the equivalent outcome of living or killing. On the other hand, in the endgame context, a miai position has two points that are about the same point value, although these two values need not be exactly the same.
Relationship of Miai and Ko Threat
If two points being miai is required for one player to achieve some objective, then the same miai position gives the opposing player a ko threat that threatens to prevent the player from achieving that objective.
It should be emphasized that the concepts of miai and ko threat are not exactly the same, although they overlap to some extent.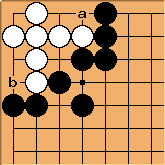 As an example, consider the this miai position. Here, White must get either a or b in order to live. This implies that Black has a ko threat (a sente move) by playing at either a or b.
Unless Black plays here as a ko threat, we expect that this position will remain until the final stage of the game, when one player will get a and the other will get b, even if White plays first.
Usually, it is better not to play out miai points without additional reason. But playing it in the middle game is a loss of a ko threat which might prove to be decisive for the outcome of the game.
---
kritz An associate from Japan informed me that this also means "arranged marriage." We need to be careful with this one I think.
Clarification The word for arranged marriage uses the polite prefix: omiai. See also:

http://en.wikipedia.org/wiki/Miai
Yoshiki The term has more general use, as its literal meaning is just "looking at each other". In baseball, for example, an easy pop fly that could have been caught by any of two (or more) fielders might drop if the players thought the other would be going to catch it. This situation is also referred to as "miai" or "omiai", or they just "looked at each other". When two babies are curiously staring each other, the parents would say "they are looking at each other!", or "miatteru". Arranged marriage is more often referred to as "omiai" but it can be just "mial".
In Go, the way it is explained is "these two points are looking at each other".
Anonymous: I believe that the Japanese word omiai does not refer to the arranged marriage itself but rather to a (first?) meeting between the prospective bride and groom which would take place so the couple could meet each other in the context of a possible marriage and look each other over.
---
See Also
Contributors:
This page was Wiki Master Edited by Dieter from the old page.