Small Chinese Fuseki
The Small Chinese Fuseki (also called the mini-chinese Fuseki) is the pattern of

,

and

in the diagram below.

may also be a play at a against a White komoku at b. The placement of

may vary ("d" is also common), and

is sometimes played one line higher.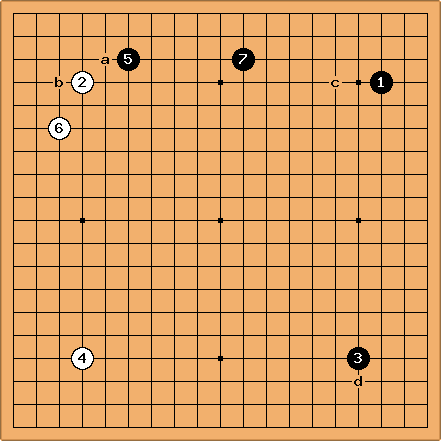 The relationship between

and

is identical to that in the Chinese Fuseki and gives the fuseki its name. Black intends to use the same strategies as the regular Chinese against a white play around c.
Obviously White can prevent the formation of the Small Chinese by playing a pincer against

. (See Preferring to pincer.) Equally White can play 6 at c. An important difference between the pincer and the play at c is who gets to take the initiative in the upper left corner (see BQM 31 / Modern Double Kakari). White should make her choice based on which type of game she prefers.
Charles Matthews looks at the Small Chinese in chapter 6, "Adding Asymmetry", of his series at Mindzine (now

here). Josh Allen? explains the Small Chinese in a

video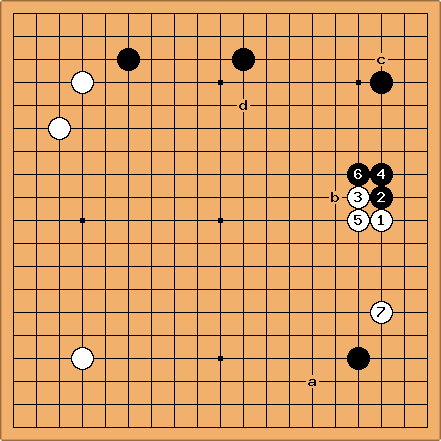 This is a possible continuation in very modern style -

is just a few years old Chinese invention. Note that

is necessary, pushing makes white shape collapse quickly. After

, 'a' and 'b' are black's options (there are almost no traces of other followups in pro games). Note that white still has aji of the probe 'c' to look forward, followed by a crosscut and cap at 'd'.
This sequence is also plausible when black has large enclosure at the top instead of mini-chinese.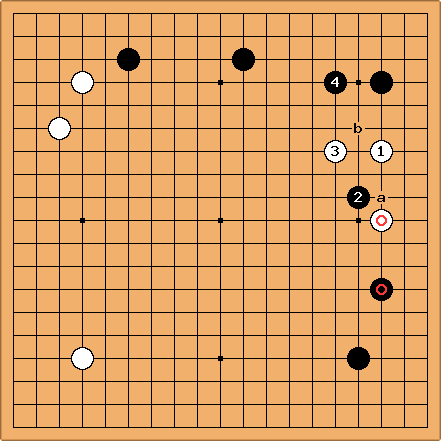 Tapir: This

is overall much more common (2/3 of all games) and much more successful (>60% compared to about 50%) in professional play. Idea: after

at a

at b is better than simply playing at b, because

helps (even if as sacrifice stone :)

now.
Historical Example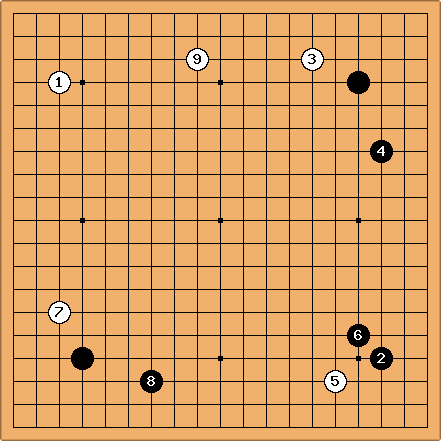 In this game from around 1710 Honinbo Dochi played a mini-Chinese on the top side against Aihara Kaseki.
---
See also: