Cho Hye-yeon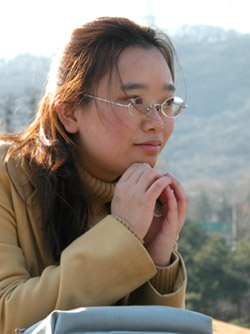 조혜연 (趙惠連) (b. 7 June 1985) Korean female pro, turned pro at the age of 11 years and 11 months--third youngest in Korea after Cho Hunhyun and Lee Changho. Her name is also spelled Jo Hyeoiyeon.
Aside from her professional Go career, Cho Hye-Yeon also currently studies English Literature and Japanese at the Korea University. She used to have a blog in English (

Cho Hye-Yeon's blog), which is inactive since December 2009. Also, she has played piano and violin since she was very young.
She is a native Korean speaker, and knows Japanese, English, some Chinese and is currently learning Spanish.
She enjoys creating L&D problems, she says "is like drawing".
She has very strong beliefs and that's why she doesn't compete on Sundays. This even made her to face problems Baduk fans in Korea and, for an example, that's the reason she didn't compete in WMSG (there was no way for her to avoid having one game on Sunday).
Promotion History
1997 Shodan
1999 2nd dan
2000 3rd dan
2003 4th dan (in June)
2004 5th dan (in March)
2005 6th dan (in April)
2006 7th dan
2008 8th dan
2010 9th dan (from 2010-12-21: Asian Games Gold Medal) - 4th female to reach 9 dan
Titles
Books
Author of