Xuanxuan Qijing
Xuánxuán Qíjīng (玄玄棋經, Gateway to All Marvels, Gengen Gokyo, 현현기경) is a classic, Chinese problem collection published in 1349 by Yan Defu and Yan Tianzhang; it is one of the most influential problem collections in go history.
The Chinese title could be translated literally as "mysterious weiqi classic". (玄 xuán mysterious; 棋 qí chess or chess-like game i.e. Go; 經 jīng classic/sacred book).
The Xuánxuán Qíjīng traditionally consists of 347 problems. In Japan it is known as the Gengen Gokyo. Many editions and versions of the book have appeared since its first printing, sometimes varying in number of problems, problem order, solutions, 'revised' problems, and so on.
The Xuanxuan Qijing problems part is available on Sensei's Library here.
Table of Contents of the Xuanxuan Qijing
Preface
Introduction
Chapter 1 - 13 Articles About Go
Chapter 2 - Playing Techniques in Detail
Chapter 3 - Joseki and Actual Games

Part 1: Joseki
Part 2: Actual Games Records

Chapter 4 - The Zhenlong Go Problems

Section 1: Corners
Section 2: Sides
Section 3: Center
Sample Problems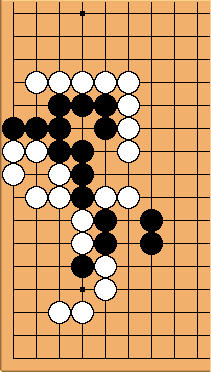 Online Versions
Published Versions
Year
Title
Annotator(s)
Language
Publisher
ISBN
Notes
1913
Gengen Gokyo
Kobayashi Kentaro
Japanese
Igo Zasshisha
Available at Japanese National Diet Library Digital Collection here
1935
Gengen Gokyo Shin Teihon
Hashimoto Utaro
Japanese
Seibundo Shinkosha
1956
Shinshaku Gengen Gokyo
Hashimoto Utaro
Japanese
Kansai Kiin
1974
Hyeonhyeon Gigyeong
Kim In
Korean
Hyeonhyeon-gak
1979
Gengen Gokyo
Hashimoto Utaro
Japanese
Sankaido
978-4381079688 (2004 ed.)
Reprinted in 1997, Revised in 2004
1980
Gengen Gokyo-shu
Go Seigen
Japanese
Heibonsha
4-582-80387-3 & 4-582-80390-3
2 volumes, boxed. Now available as on-demand paperbacks.
1987
Xuanxuan Qijing
Trans. Chen Xianhui
Hashimoto Utaro
Chinese
Shijie Wenwu Chubanshe
89-333-0342-1
89-333-0341-3
Chinese translation of 1979 Hashimoto version.
1988
Xuanxuan Qijing, Xinjie
Wang Runan
Chinese
Renmin Tiyu Chubanshe
7-5009-0054-4
(top right picture)
1989
Gengen Gokyo
Takagi Shoichi
Japanese
Kyoikusha
4-315-51033-5
4-315-51034-3
2 volumes. Digest, only 140 problems.
1996
Xuanxuan Qijing
Lin Tianduo?
Chinese
Shanghai Wenhua Chubanshe
7-80511-757-8
1999
Iyagi Hyeonhyeon Gigyeong
Kwon Gyeong-eon?
Korean
Hanguk Giwon
89-7990-058-0
2000
Wan-yeok Wan-gyeol Hyeonhyeon Gigyeong
Yi Hae-beom?
Korean
Jeonwon Munhwasa
89-333-0342-1
89-333-0341-3
2005
Weiqi Shengjing: Xuanxuan Qijing, Zhenlong Qiju Pojie
Chinese
Tuanjie Press
7-80130-868-9
2012
The Gateway to All Marvels
John Fairbairn
English
Amazon Digital Services / SmartGo Books
Collected version from multiple sources. 466-problems and variants with solutions. Historical notes and translations.
2014
Baduk Classic : The Profound and Mysterious
ChoHyeYeon
English
BadukTV
Reviews
to be added
---
Notes and comments
As noted in an old GoDiscussion thread, Kobayashi Chizu, 5d recommended that everyone should do the Xuanxuan Qijing, giving the opinion that it was the easiest of the classic problem collections. Weaker players can also try for a bit, and then look at the solution -- noticing new motifs. She says that it is a lot about "feeling" & vital points.
tchan001: The original 1349 Chinese version is composed of 6 parts 禮, 樂, 射, 御, 書, 數.

The version which seems to be based on the ancient Chinese edition is the Xuanxuan Qijing ISBN 7-80511-757-8 from the Chinese Weiqi Ancient Manuals Big Series?.
The earliest Japanese version is the Kan'ei (寛永) version (1624-43) but this edition is said to be more complex than the original Chinese edition as if revised.
In 1753, Kawakita Meihei? produced a version called "Explanation of the Gengen Gokyou in Proverbs" splitting the Kan'ei version in three sections for three scrolls.
The Hashimoto Utaro version seems to be a major re-edit of the Japanese version with selection and explanation by Hashimoto. It is quite different from the original chinese version in the way it is organized.
See also