Value Of AMonkey Jump/ Discussion
Describe ValueOfAMonkeyJump/Discussion here.
WTD: Thanks for the sequence Bill. It's not one I'd ever have thought of. Although the result is amazingly good after the 'fire and forget' monkey jump, it appears to be the same (Jigo) as that from m3, rather than being bigger.
Bill: If Black played consistently, rather than switching to the bottom in midstream, he would lose by one point.
fills at .
In the main branch of m3, W avoids ko by playing

before

, and B suffers from shortage of liberties.


Bill:

is bigger than

. To be consistent, Black would play

at

.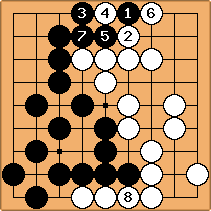 fills at

.
Black still gets jigo by winning the final ko.
Because it allows

,

is locally inferior (given no ko threats on either side).

Thanks for that clarification Bill. I've added the 'bigger' diagram sequence (on the parent page) to problem

5633, and will give it a fuller final comment after taking on board the implications.