Tsumego From Games 6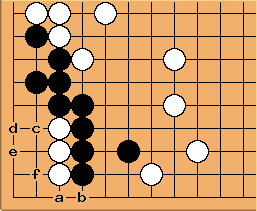 In the 2002 Belgian Championships, I was leading against Mr. Wong. Although the black group in this diagram was surrounded on a large scale, White could only make an L group: White a to Black f keep White to one eye. Black has enough liberties to capture the L-group.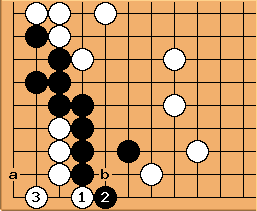 To

, I carelessly replied at

.

made miai of life at a or connecting in ko at b. This was rather a dramatic turn of events, because if the corner lives, the surrounding black group is unsettled.
---
The correct answer is simply to extend as in the next diagram. Any beginner tsumego book will tell you that. But applying tsumego in games is another thing.
---