Taisha Narabi
---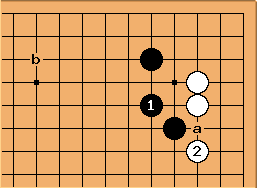 Searching at GoBase shows that the exchange of

and

has been played in 42 games, with only one game including a play at a by White (that example being a game played in 1920 between Kita Fumiko and Shusai Meijin). With the main line of this exchange, Black won 23 of the 42 games (54.8%). Kogo's shows b as the continuation, but the GoBase variation tree does not show this.
---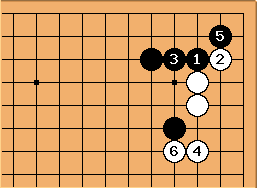 This variation occurs in ten games in the search mentioned above, and is the second most common variation. There aren't enough games to base any statistics on, as several games abandoned the line at various points.
---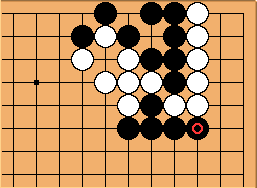 In this game, Yasui Sanchi played at a from the first diagram, rather than at

. This play,

, is marked as an overplay in Kogo's, but Black went on to win by four points.
---
See also: