Small monkey jump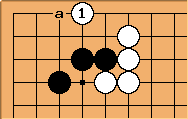 For example

here, played as an early endgame play, is a small monkey jump. It is more frequent in pro play in this particular corner formation than the ordinary monkey jump to a.


Theorists have worked on comparisons of the small monkey jump and monkey jump from the point of view of exact counting. In what could be termed typical positions, the small monkey jump doesn't gain an advantage in points.
Nevertheless it is played often in pro games, for reasons particular to the context.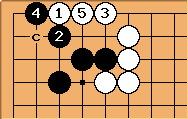 In this case

might not be sente: the cut at c is usually worth a little more than five points (deiri), so that Black may not protect.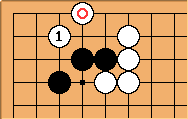 Here if Black doesn't answer (at

),

is a big endgame play.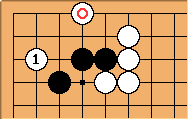 May be this one is also possible and reduces the black territory a little bit more? Hans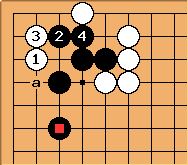 If Black has a nearby stone on the left side (which is likely to be the case, since it is supposed to be black territory) this will take the corner.
If

is impossible, Black can just block at a, and White will have to accept gote.
--Bass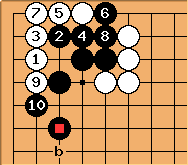 After seeing Bass's comment I think

is not possible since White is simply dead. Maybe

is only possible if

is at b. Then Black cannot block at a. Hans
---
Bill: Assuming secure black territory on the left side and secure white territory on the top side, it looks like a very close call. (I calculate 1/8 point miai in favor of the small monkey jump, but variations in the surroundings could make a difference, and it would have been easy to make a mistake of that amount in the calculations.)