Send Two Return One Watari
kb: This shape is mentioned at NamelessTesuji.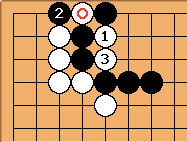 I think the "common with beginners" reference here is if Black fills at

. However, it depends on who is komaster for

. Let's investigate some of Black and White's responses.
This

fails.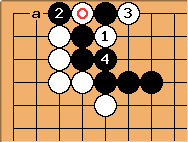 is tesuji. White cannot connect because of oiotoshi, and even if he did connect, he cannot capture the capturing stone because of

.
---
This

threatens to capture all of the side Black stones.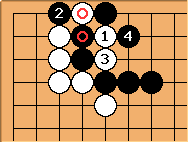 If W is komaster, White should send two and let Black return one, then block on the side. Black connects, White pushes once.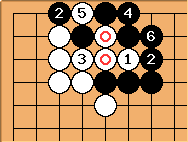 If B is komaster, then White should play this way: