Schrodinger's Seki
Is it dead or alive?
Being an obsessive Go player, I sometimes play Go in my Physics class with a few friends. One day our lecture was on

Entropy and temperature. Because I was playing Go, I didn't really hear most of the lecture, but one line stood out at me. A side conversation went more or less like this:
Professor: "Generally the entropy of the system is proportional to the complexity of the system. The internal system of a gas is very complex. It is impossible to determine the state of it at any given time."
Me: "Woah, entropy stinks of

Heisenberg!"
Her: "Does Heisenberg stink of dead cats?"

Schroedinger's Seki 1
I present to you -

Schrödinger's Seki!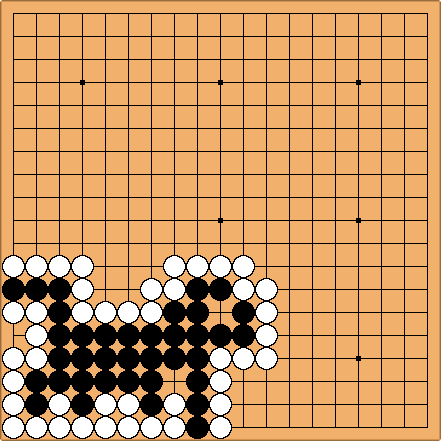 Sebuc:If anyone can make a better looking cat out of Go stones, please go ahead . . .
MarkD:I am sorry to tell you: Your cat is dead!
Zarlan: How so? The below cat looks dead to me, but cat 1 is definitely seki. There is no way that white could possibly kill it.
Robert Pauli: The cat below, Zarlan? Miau! :--)
Robert Pauli: I'm still a child . . .
jpduke? WOW! We've had Schroedinger AND Pauli AND Heisenberg. Anybody for Bohr?
Schroedinger's Seki 2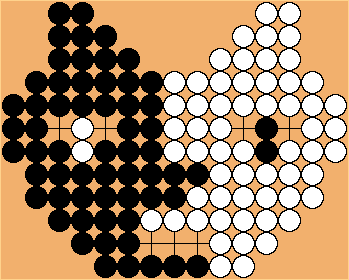 Actually this is also seki!
A Seki Cat with LEGO bricks
Design by IngoA
Links
Compare: