Sai - Meijin 101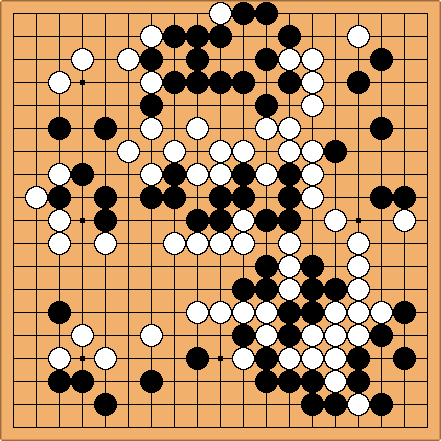 DaveSigaty: This position is from Cho Chikun (Black) versus Otake Hideo in the preliminaries of the 44th Oza Sen. The game was played 1996-06-14 (game 1996-06-14a.sgf on the latest GoGoD CD). Unfortunately not analyzed in Go World or anywhere else that I have seen.
SAS: An SGF file of the game is available

here. The above diagram seems to be slightly wrong. What move number is it supposed to be?
HolIgor: It is interesting that they have chosen a Cho Chikun game for this chapter. It is so natural for Cho to try to crush the opponent by applying a very risky strategy. This time he was fried.
Funny thing - in anime, there is quite big mistakes - in 6:46 Meijin play auto-atari, in 6:49 (episode 49) we can see black play M3.Obviously on screen position he should play K6 making quite big capture.