Roll-up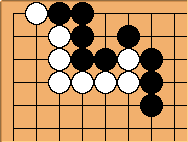 The roll up is a basic capturing technique, involving a sacrifice stone. The term has been coined here at SL and we don't currently know of any established name for it.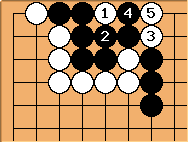 It starts with the placement atari of

,

connects, then

is a cut and atari,

captures the

stone, then

puts all those stones in atari and the group has been rolled up.
Notice that every liberty counts in this situation: if there is no white stone at the marked point,

is not atari and

can capture those two stones instead.
---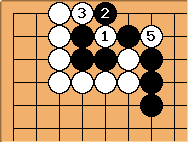 is again a sacrifice stone, meant to reduce Black's liberties. If

, then

is atari and when

connects at

,

completes the roll up.
Note that the sacrifice is needed: if

simply ataris,

connects and now White can no longer atari at a, because there is a stone lacking at b.
These techniques often make a big difference at the beginner level.